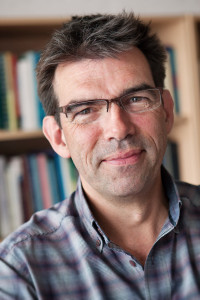 I am Professor of Philosophy of Behavioural Science at Radboud University in the Netherlands.
I studied philosophy and sociology at Utrecht University and have always had an interest in applying an analytic style of reasoning to questions of human self-understanding, thus crossing – or rather neglecting – the so-called analytic-Continental divide. I wrote my MA-thesis on the philosophy of perception, discussing both Frank Jackson's and Ernst Cassirer's work, and arguing that perception is a mode of being rather than a means of acquiring information about one's environment. In my doctoral dissertation I reconstructed Salomon Maimon's criticism of Kant's transcendental philosophy and turned it into a post-Kantian scepticism that I used to criticize assumptions underlying twentieth century Anglo-American philosophy of mind. My dissertation was published as The Antinomy of Thought. Maimonian Skepticism and the Relation between Thoughts and Objects, Dordrecht: Kluwer, 1991.
After my graduation I worked for fifteen years at Utrecht University, teaching philosophical anthropology and publishing scholarly papers on autonomy, authenticity, and practical identity. At Utrecht he founded Philosophical Explorations. An International Journal of Mind and Action together with Anthonie Meijers and Stefaan E. Cuypers.
From 2000 to 2003 I was appointed to the Socrates Chair of Philosophical Anthropology at Leiden University before moving to Nijmegen where I became professor of philosophy at the Behavioural Science Institute of Radboud University.
At Nijmegen I became interested in the philosophy of science which I came to think of as a variety of philosophical anthropology. After all, our contemporary culture has created a very dominant means of trying to improve our human self-understanding: behavioural science. My book Don't be fooled, which I wrote in an accessible style for a larger audience, is a testimony of this approach to science as a mode of being human.
My critical attitude to the alleged importance of scientific findings to living our ordinary life opened up a research interest in the differences, and the similiarities, between knowledge and love, on which I've written a number of scholarly papers. But my critical attitude to contemporary scientific practices also motivated me turn to the writing of accessible books for a wider audience. I write these in Dutch, supported by the fluency of my native language. The first of these books for the wider audience was Word zelf filosoof (Become a Philosopher Yourself) which appeared in 2010. It was shortlisted for the Socrates Prize for the best Dutch philosophy book, the prize that I actually won in 2014 with Laat je niets wijsmaken (Don't be fooled). I published three more books in Dutch since then: Je brein of je leven (Your brain or your life, 2014), Wie ben ik dan? (Who will I be?, 2015), and Waar filosofen van houden (What philosophers love, 2016).
I have three grown-up children and I live with my wife in a small village in the wooded area near Utrecht.
Read here how I use personal information: privacy policy